Creative Arts in Education and Therapy (CAET) – Eastern and Western Perspectives is an international open access journal and the official publication of IACAET (The International Association for Creative Arts in Education and Therapy). CAET was founded by Dr. Tony Zhou and Prof. Shaun McNiff in 2015. CAET has an international Editorial Board consisting of some 50 leading international expressive arts experts led by five co-editors: Vivien Speiser, Clive Holmwood, Rebecca Zarate, Michal Lev, and Ma Liwen.
CAET is a leading journal in the world in the field of creative arts education and therapy by bridging science and art, and creating a mutual and inclusive dialogue between East, West, South and North. We are committed to bringing the great works from China abroad. The journal values all of humanity and the arts as a core in the publications which focus on arts-based approaches to the topics under investigation.
CAET is a diamond open access journal with major contributions to the academic and professional community. It publishes two issues every year by both online and print editions. Currently it is indexed in Scopus, DOAJ and other major databases, and is collected by over 8,000 universities and institutions in the world. CAET is in the process of application to the Web of Science Core Collection to further its impact factor.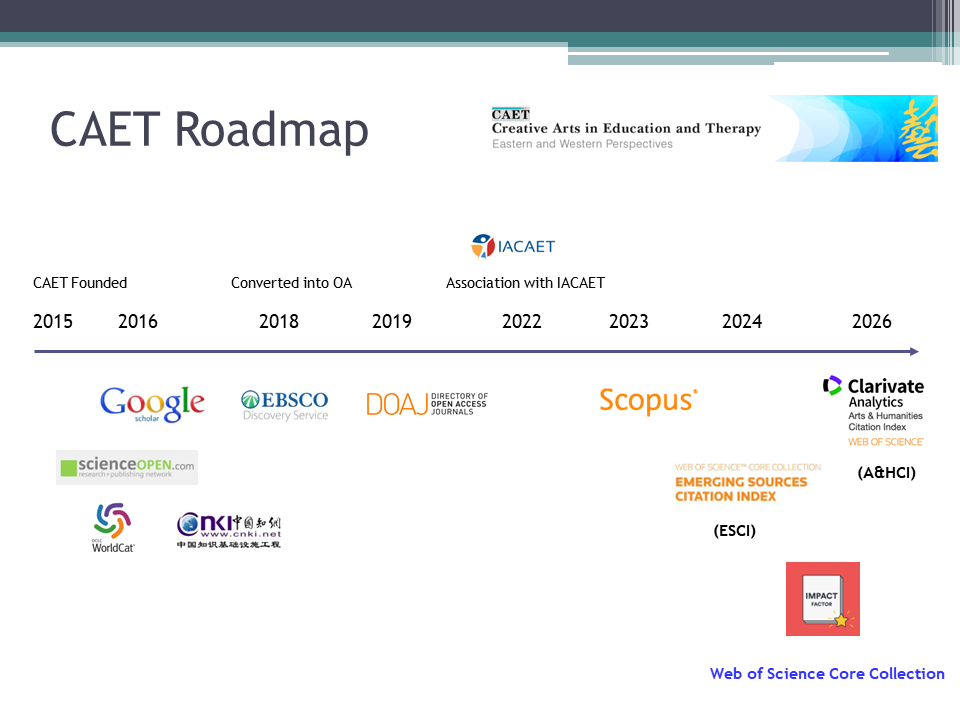 To support our expansion and ambitions, we are looking for 2-3 editorial assistants to join our editorial office team. You will be working closely with the CAET editorial board, reviewers and authors around the world. This is an excellent opportunity to advance your professional career and make important contributions to our professional community. This work is on a voluntary basis at this moment with an average of 1-2 hrs a week with some benefits.
Work responsibilities
Manuscript Management: Assisting in managing incoming manuscripts by screening and coordinating peer review processes.
Correspondence: Handling communication with authors, reviewers, and editors, providing timely and professional responses to queries, and offering guidance throughout the publication cycle.
Administrative Support: Assisting with administrative tasks, such as maintaining author/reviewer databases and peer review system with the technical team, organizing editorial meetings, preparing the meeting notes.
Qualification
Academic Background: A bachelor's or master's degree in a relevant field, such as English, journalism, communication, arts, psychology or a related discipline.
Strong Communication Skills: Excellent written and verbal communication skills, with attention to detail and the ability to collaborate effectively with authors, reviewers, and colleagues.
Languages: proficiency in English at academic level, Chinese is a plus but not a must.
Editorial Interest: A passion for academic or scientific editing, journal publication, or manuscript handling.
Organizational Abilities: Strong organizational skills, with the ability to manage multiple tasks simultaneously, meet deadlines, and maintain accuracy in a fast-paced publishing environment.
Technical Proficiency: Familiarity with manuscript management systems, reference management software, and standard office productivity tools would be beneficial.
What we offer
Professional Development: Opportunities to enhance your editorial skills, gain experience in academic publishing, and learn from experienced professionals in the field.
Exposure to Research: The chance to work closely with researchers and scholars, gaining insights into their work and contributing to the dissemination of impactful research.
Collaborative Team Culture: A collaborative and supportive team environment, fostering open communication, knowledge sharing, and mutual support.
Flexible Commitment: The ability to contribute to the journal's publication process based on your availability and schedule.
Free IACAET membership enabling you to join all IACAET events year around among other benefits.
CPD certificate from IACAET demonstrating your contributing hours/credits countable for your CPD requirement.

Application
To apply for the Volunteer Editorial Assistant position at CAET journal, please submit the following documents:
Cover Letter: A brief introduction that highlights your interest in the position, explains your relevant experience or interest in the field, and describes why you would like to contribute to CAET journal.
Resume/CV: A summary of your education, any relevant experience, and skills that would be beneficial to the role.
Please email your application to caet.journal@inspirees.com. We appreciate your interest in volunteering with CAET journal and look forward to reviewing your application!
Note: Please ensure that your application email subject line includes "Volunteer Editorial Assistant Application"
(Read 8,634 times, 1 visits today)