Reflections on curating the exhibition: Interpreting the Natural: Contemporary Visions of Scholars' Rocks, October 21st–Nov 30th, Gallery Korea, Korean Cultural Center, New York, NY, USA
Donna Dodson, Brandeis University, USA
(This piece is the excerpt of the full article published in nature-embodiment special issue of CAET in August 2021)
Abstract
This article uses the concept of the scholars' rock tradition from East Asia as a framework for the author's curatorial project at Gallery Korea, Korean Cultural Center, New York. The contemporary art exhibition is discussed in relation to the traditional aesthetic. Universal connections between art and nature are included. Due to COVID-19 restrictions, the author developed a series of online events to address the main themes of the show with the artists in conversation with museum curators, art historians, and private collectors.
Introduction
The process of curating this exhibition began over three years ago, but my journey with scholars' rocks or viewing stones began long before that. A scholar's rock is a naturally shaped stone traditionally valued in East Asia as an object of contemplation. When I visited China in 2015, I discovered these rocks in nearly every interior space, from hotel lobbies to political offices to private homes and gardens. Oftentimes the stones were covered with dust, or languished in a corner behind the bric-a-brac of everyday life. If outside, they were often planted in the dirt without a stand. They seemed to be everywhere. As I was assembling this show. I visited contemporary art galleries that specialize in Chinese artists and masterworks, where my curiosity was often met with skepticism about this topic. From their perspective, they consider these rocks a form of low art. A nonprofit art gallery in New York City, where I proposed this show, could not understand the concept or its relevance to contemporary art. In 2019, the movie Parasite, directed by Bong Joon-Ho, that prominently featured a scholar's rock, changed everything. The movie won four Academy Awards, becoming the first non-English language film to win for Best Picture, and the first South Korean film to be nominated. Suddenly, we had a cultural reference point for this show. Not long after came the opportunity to exhibit this show at the Korean Cultural Center in New York, NY.
Scholars' Rocks: Traditions of China, Korea, and Japan
Rock collecting is a universal human pastime. Throughout East Asia, scholars have cultivated distinct traditions: in Korea, suseok; in Japan, suiseki; in China, gongshi. The most prized "kernels of energy and bones of the earth" (Hay, 1985) were created by water or wind carving away the geological structure until only the essence of the rock is left behind. The stones became appreciated as an art form when they were enhanced by artisans, set into elaborately carved wooden bases or trays of sand and water, and brought indoors for contemplation. Daoist practitioners understood these unique stones as an index or a synecdoche of harmony with nature. As the stones were passed from generation to generation, they signified an authentic connection to the landscape and an aesthetic reminder of that spiritual connection.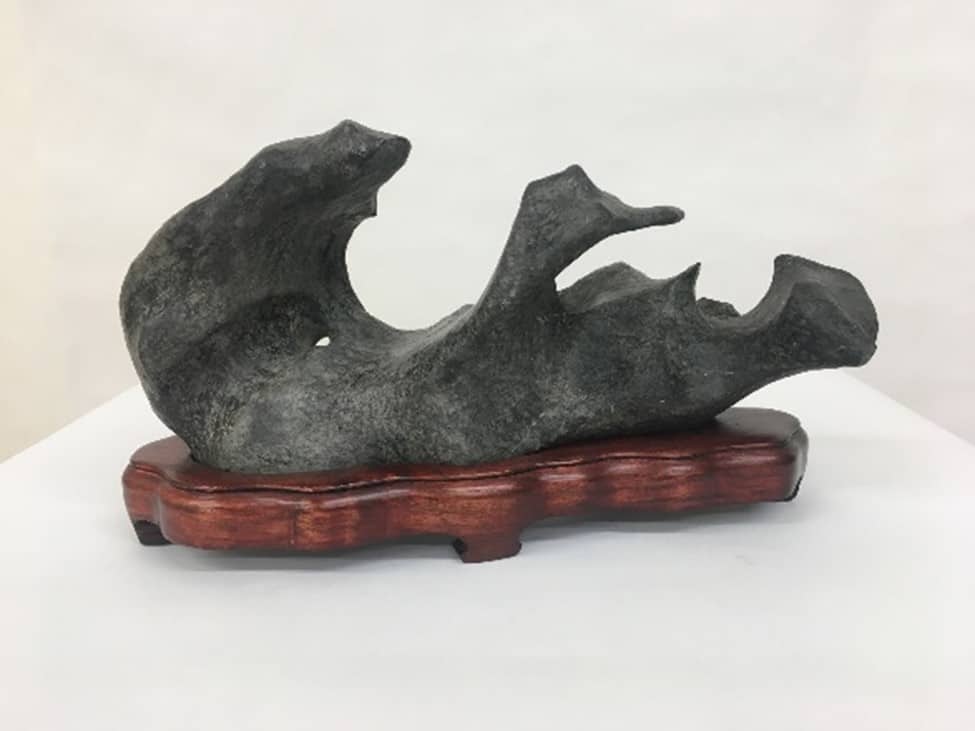 An appreciation of these stones represents cultural value for Korean, Chinese, and Japanese collectors. With new affluence came increased demand for such ancestral heritage. Merchants would often find or carve natural stones and sell them in the marketplace. Commercial availability enhanced their popularity. With the rise of new wealth in Korea and China in the past 50 years, these naturally occurring and worked scholars' rocks have become more sought after. They signify a connection to the ancient past, and collectors acquire them to express prosperity and hope for the future.
Richard Rosenblum, an American sculptor and a scholars' rocks collector, made the most significant contribution to a global fascination with this tradition by researching these stones and bringing them to a Western audience in the late 1990s. His public exhibitions resulted in gifts to the permanent collections of the Harvard University Art Museum, the Museum of Fine Art Boston, the Metropolitan Museum of Art, and other museums. By situating these rocks in conversation with civilization's cultural treasures, he elevated their status in the West. The scholars' rocks in his collection had a profound influence on his own work, transforming his classical figures into expressive gestures.
Today, scholars' rocks continue to resonate with viewers. The surge of interest in scholars' rocks or viewing stones in the art world, and in pop culture such as in the movie Parasite, comes at a time when things feel out of balance with nature, the environment, and society. The artists in this show are all responding to this moment. A reverence for rocks and nature is needed now, more than ever.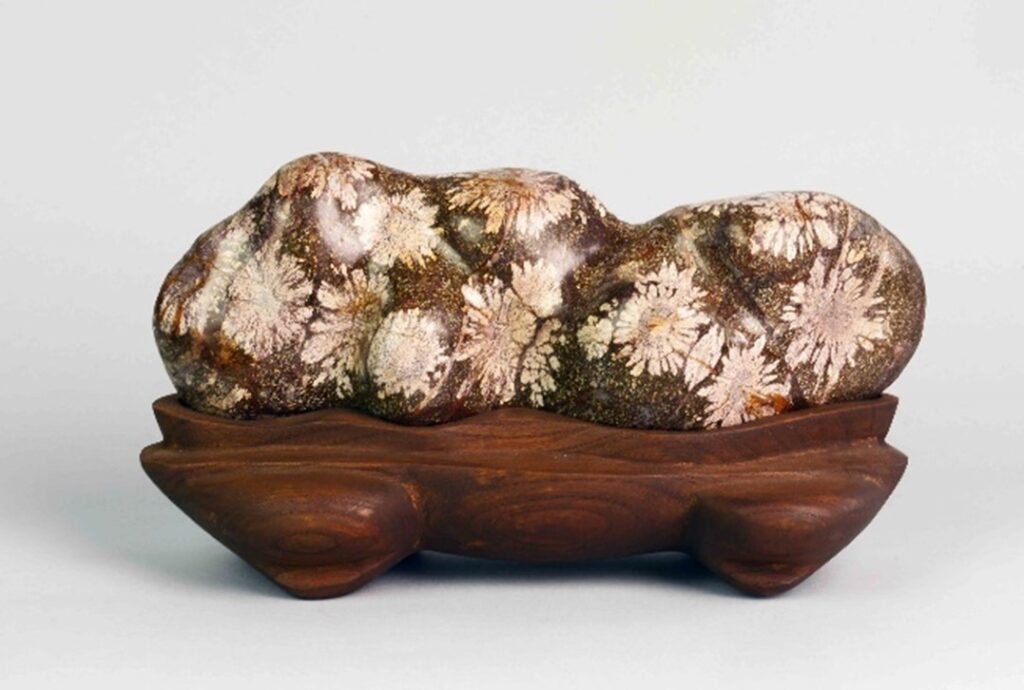 As a sculptor, the scholars' rocks' appeal is in their visual three-dimensionality. One often reads about the aesthetics of the stones, that the best ones are asymmetrical, with wrinkled surfaces, perforated with holes, resonant when struck, and suggestive of landscapes. I see them as a form of abstract sculpture. They embody the original impulse to elevate a found object to fine art status, not unlike a "readymade," where a commonplace artifact is viewed as art. The odd shapes invite reflection and contemplation. The viewer can see whatever is in the mind's eye—in that sense they are akin to Rorschach ink blots that are used to elicit psychological projections from a viewer's imaginative responses. Everyone can relate to finding a beautiful stone, picking it up, and setting it on the desk or windowsill. Recent fads such as "pet rocks," or the idea that the stone is looking back at the viewer, reinforce the ubiquity and chimeric qualities of viewing stones. Rocks are timeless, and universally appealing.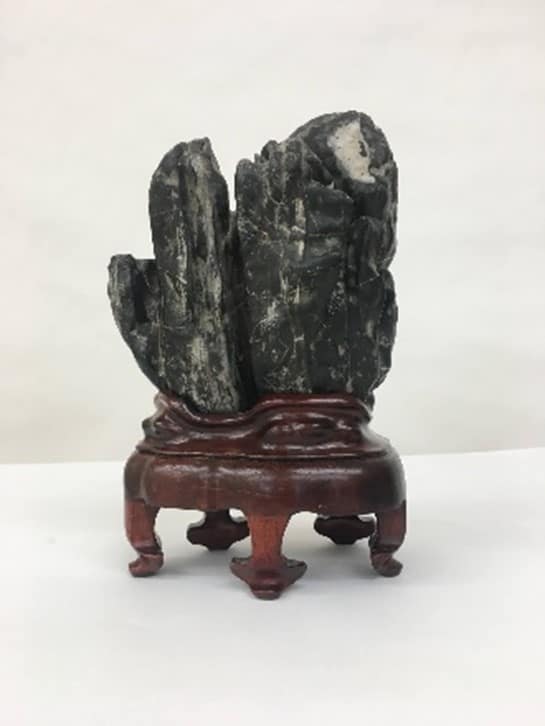 The inspiration for me as an artist curator of this Korean Cultural Center exhibit was Takashi Murakami's Little Boy: The Arts of Japan's Exploding Subculture exhibition in 2005 at the Japan Society in New York, NY. Murakami's exhibition blurred the lines between high and low art and culture, and in doing so created a much wider audience for Japanese contemporary art. By understanding the popular forms of art and culture, such as manga, which are comic books or graphic novels, as extensions of traditional forms of ukiyo-e or Japanese woodblock prints, the show brought a serious focus to the global phenomenon of anime, or animated movies, and made the imagery more accessible. Little Boy opened a window into post–World War II Japan including the societal impact of surviving the atomic bombs and its slippage on the global stage. In these times of humanity's assault on nature, the idea of turning to contemporary artists to connect our interpretations of the living nature of stones made sense. This was the inspiration for my show.
My first encounter with the idea of scholars' stones was the fabulous taihu rock in the front lawn of the Museum of Fine Arts in Boston. I became more intrigued when I saw Liu Dan's work in the MFA's Fresh Ink show in 2010. Liu painted 10 portraits of a scholar's rock. I was intrigued and I wanted to know more. My husband, Andy Moerlein, a sculptor and educator, has been studying these rocks for many years, thus he is drawn to contemporary artists working within this philosophy and aesthetic. Once we started doing studio visits and talking to artists, who referred us to other artists, we started seeing scholars' rocks all around us in nature. When I started researching scholars' rocks, I immediately came across Kemin Hu's books in my local library.Hu's father was a third-generation stone collector. Kemin continued this tradition in America, becoming a scholar, author, and public speaker who champions the aesthetics of stone to Western audiences. As I looked further, I found a video of Hu during an exhibition of her stones at the Public Library in Weston, MA, in 2001, Sculpture by Nature: Chinese Scholars' Stones Exhibition from the Collection of Kemin Hu. I went to visit her and see her collection several times in Newton, MA, and she generously loaned two of her stones to this show. When asked if the stones have spirit, she will say that people who see something in the stones have spirit.
(Read 113 times, 1 visits today)