I am an artist, and my love for art comes from me feeling the supportive effect of art on the development of human life. I transferred to Nanjing Youth Counseling Service Center in 1989 by chance, where I established an "Art Analysis Department" soon after due to my belief that art is more accessible than psychology to reach into one's heart. For the need of supporting and caring for people's mind and spirit, art is obviously more vivid and effective than psychology.
Since then, I had been exploring different forms of art creation, but I still felt that I was restricted by those kinds of artistic experiences. For this reason, I had been attempting to get rid of and transcend such restriction from those experiences. In 2000, I chose to abandon my brushes and used the paints with my hands directly in order to avoid being affected by my past painting experience with brushes. At that moment, I had a strong feeling as if a lightening hit suddenly through my body, which is an experience I had never had in the past, and I was prompted to try further. After a few days, my fingers were no longer governed by my mind, but by my body's will, and results were paintings filled with the traces of my fingers interacting with paints and canvas. Those traces are imbued with passion and desire and have nothing to do with thought, knowledge or experience. Later I named this series Desire Finger.
It took me almost 10 years to paint the Desire Finger series. During this period, I also extended the idea of Desire Finger and brought it into the creations of various life supplies and household utensils, and specially, to highlight the meaning of Desire Finger, I made a sculpture works named Chinese Stones, all these works having participated in many exhibitions. After then, I became unsatisfied with my constant repetitive expressions via Desire Finger, as I discovered that the movements and variations of the human body are still limited. I wished to break through this boundary and step into an infinite world, for which I made a solo exhibition with the theme Infinite Color.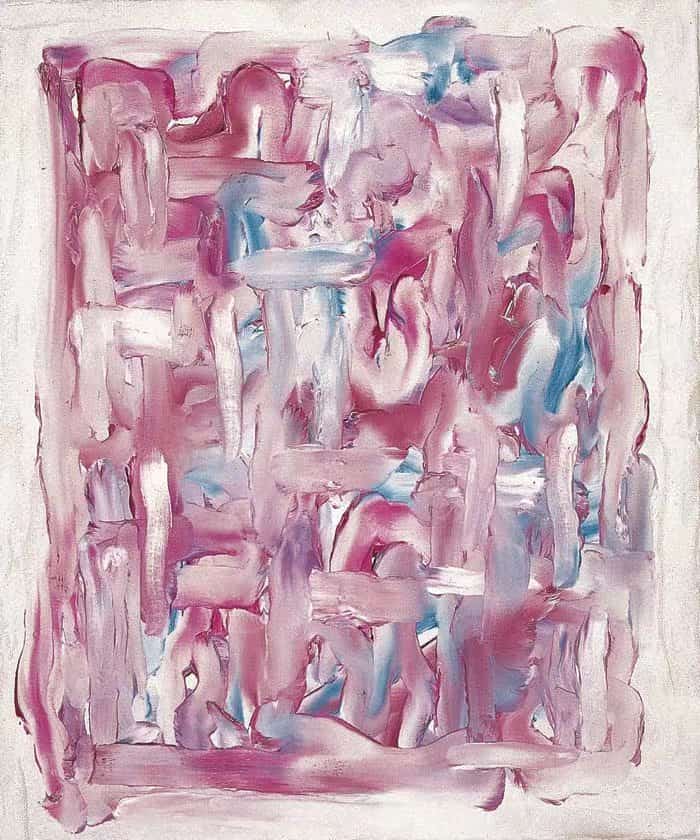 In 2006, I pinned this wish of "infinity" on the mentally ill, and I built a temporary painting room for the inpatients in a mental hospital later. The paintings by the mentally ill who had never studied art immediately brought me to an infinite world, which is supposed to be that unconstrained world rich in spirituality we usually talk about. From that moment on, I made it my goal to discover and promote Outsider Art for the rest of my life. Now we have created Outsider Art studios in two communities in Nanjing serving people with different types of mental illnesses and rehabilitators living there. At the same time, we have also combined this Outsider Art service with Art therapy and create the "Outsider Art Therapy" method, which is being promoted nationwide and is very popular among patients and rehabilitation institutions.
When I revisit the experience of creating Desire Finger series today, what I discover is the indispensable role this experience plays. As for me, immersing in various cultural and worldly experiences, it would be difficult to escape the bondage of them without that art practice, through which I also get to know the freedom and infinity of human soul and spirit at the same time.
Decades of art practice have taught me the indispensability of art for the present generations. Without the help of art, we would most likely be caught in the body, in concepts, in delusions, or live in the torment of the split between body, concepts, and delusions. The role of art lies in its ability to expand the boundaries of the body, the boundaries of knowledge, and the boundaries of imagination, thus allowing the human body, mind, and spirit to form a unified and open organism.
The reason why art has such a function beyond the body, concepts and delusions is that the body, concepts and delusions are all products from human disassociating one's own life from the world, and this disassociation has precisely caused one's life losing its unity, thus putting oneself in opposition to the world, and this disassociation and opposition is the reason why various mental problems are arisen nowadays.
Art is not an idea or a material, but an expression of the free will of human life. Once this free will is connected to all things in the world, those things will possess spirituality. As our lives that have been disciplined and transformed by knowledge, in order to gain vigor and vitality, only through some form of art can we approach the free will of life, and then let it activate all things in the world and our lives, and after they being activated, the mission of art is fulfilled.
About Guo Haiping
Guo is a contemporary artist, the founder of Outsider Art Therapy in China, the editor-in-chief of the Outsider Art Series, and currently serves on the China Committee of the International Association for Creative Arts Education and Therapy (IACAET).
用"欲望手指"激活和唤醒生命
我是一位艺术家,我之所以喜爱艺术是因为我感受到了艺术对人生命发展具有的支持作用。1989年一次偶然的机会,我调到南京青少年心理咨询服务中心工作,我很快就在该中心成立了"艺术分析部",因为我相信艺术比心理学更容易深入人的内心,对人心灵的关心和支持,艺术显然比心理学更加生动和有效。
之后我一直在探索不同形式的艺术创作形式,但始终还是觉得自己会受到各种艺术经验的束缚,为此,我一直在努力超越各种艺术经验。2000年,为了摆脱艺术经验的束缚,我抛弃了画笔,用手去直接接触颜料,这是为了避免自己受到使用画笔经验的影响,这时我的身体突然有一种电流穿过的感觉,这种体验是我过去不曾有过的,这种感觉促使我进一步地尝试,数天后,我的手指不再受大脑思维的支配,而是开始受自己身体意志的支配,结果画面上全是手指与颜料和画布相互作用后留下的痕迹,而这些痕迹会给人一种充满激情和欲望的感觉,这种感觉与思维、知识和经验无关。后来我将这批作品命名为《欲望手指》系列。
《欲望手指》系列我画了近10年时间,在这10年时间里,我将欲望手指延伸到更种生活用品和器具中,为了突出欲望手指的意味,我还专门做了一个《中国石头》的雕塑作品,这些作品也参加了不少展览。10年后我开始不满足于这种不断重复的欲望手指表达,因为我发现了人身体的运动和变化是有限的,我希望突破这个边界进入到一个无限的世界,为此,我做了一个个展,主题是"无限的色"。
2006年,我把这种对"无限"的希望寄托在了精神病人身上,后来我在精神病院为住院病人建了一间临时画室,从未学习过艺术的精神病人随心所欲画的画立刻让将我带入到了那个无限的世界,而那个无限的世界应该就是我们平时所说的自由的充满灵性的世界。从那一刻开始,我便将发掘和推广原生艺术当作我后半生追求的目标。现在我们在南京市的两个社区创建了为生活在社区的不同类型精神疾病患者和康复者服务的原生艺术工作室,同时,我们也将这种原生艺术服务与艺术疗愈结合起来,创建了"原生艺术疗愈"方法,并向全国推广,深受患者和康复机构的欢迎。
现在当我重新回顾那段创作《欲望手指》系列作品的经历,我发现那是一段不可缺少的经历,因为对于生活在各种文化和世俗经验中的我来说,没有那段艺术实践,我是很难摆脱各种经验束缚的,正因为有了那段经历才让我知道身体和内心的潜能和知道人身体和知识经验的有限性,同时,也让我知道什么是人灵魂和精神的自由及无限。
数十年的艺术实践告诉我,艺术对于当代人是不可或缺的,没有艺术的帮助,我们极有可能会陷入在身体中、概念中、妄想之中,或生活在身体、概念、妄想的分裂折磨之中。艺术的作用就在于它可以拓展身体的边界、知识的边界和想象的边界,从而让人的身、心、灵成为统一和开放的有机体。
艺术之所以具有如此超越身体、概念、妄想的功能,是因为身体、概念、妄想都是人对自己生命和世界进行分解的产物,而这种分解恰恰让人的生命失去了统一性,由此而让人与自己和世界处于对立之中,正因为这种分解和对立才导致今天人的精神出现了各种各样的问题。
艺术并不是某种观念或材料,而是人生命自由意志的呈现形式,人生命的自由意志一旦与万物连接在了一起,万物便获得了灵性。作为已经被知识驯化改造过的我们的生命,欲想获得生机,我们只有借助于某种艺术的形式去接近生命中自由的意志,然后再由它去激活世界万物和我们的生命,当激活世界万物和我们的生命被激活之后,艺术便完成了它的使命。
郭海平简介
当代艺术家,中国原生艺术治疗创始人,"原生艺术丛书"主编,国际创造性艺术教育与治疗协会(IACAET)中国区理事。
(Read 8,192 times, 1 visits today)