Creative Arts in Education and Therapy (CAET) – Eastern and Western Perspectives is an international open access journal published and supported by Inspirees Education Group (www.inspirees.com). CAET was founded by Dr. Tony Zhou in 2015 and is led by Dr. Zhou and two editors-in-chief: Shaun McNiff, University Professor at Lesley University, and Professor Stephen K. Levine of the European Graduate School. CAET has an international Editorial Board consisting of 50 leading international expressive arts experts.
Publishing with CAET is free of charge without any APC (Article Processing Charge). CAET is fully sponsored by Inspirees Education Group.
CAET is collected by such major institutions as the National Library of China, the Royal Dutch National Library, the Chinese Central Conservatory of Music, the Academic College of Society and the Arts (Israel), Art Therapy Italiana, Lesley University, Hong Kong University, the China Academy of Art, East China Normal University, etc.
ISSN print: 2451-876X   online: 2468-2306
CAET journal is affiliated with CAET Webinar Series and CAET World Forum initiated and organized by Inspirees Education Group.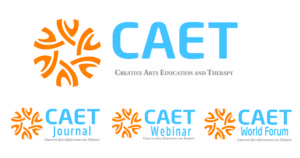 Publication Information
CAET publishes 2 issues in 1 volume per year. CAET  launched in 2015; current year of publication (2019) is volume 5.
Mission and vision
CAET aims to become the world leading journal in the field of creative arts education and therapy by bridging the science and art, and creating a mutual dialogue between East and West. We are committed to bringing the great works from China to an international audience. We value the human-centered approach.
Open Access
CAET publishes as a fully open access journal. This means all articles are available on the internet to all users immediately upon publication. If the author and the journal are properly credited, non-commercial use and distribution in any medium is allowed.